Hans Freeman Lecture 2021
SUCS is delighted that Professor Martina Stenzel will be delivering the Hans Freeman lectureship this year. This lectureship is awarded annually to an academic who has made outstanding contributions in any field related to inorganic chemistry or its teaching.
We warmly invite you to join us for the student hosted lecture in particular, which we be held on Monday 25th October. Full details are below.
Date: Monday 25th October
Time: 4-5pm
Location: Zoom. The link for this meeting has been emailed as a calendar invite to all members of the School of Chemistry. Please contact one of our secretaries if you would like the link to be sent to you again.
From a small country town to the big city and to very small polymer nanoparticles: Reflections on becoming an academic and working on plastic!
We cannot imagine life without plastics as most items we use are partly made from plastics. Think of clothes, furniture, computers, cars and many more. This has caused environmental concerns but we should not forget that plastics are fascinating material that can be shaped to suite any application from every day items, to electronics and health. In this talk, I will take the audience on a journey from simple polymers that are widely used for commodity polymers to highly complex nanoparticles that have various shapes. These nanoparticles can now be filled with anti-cancer drugs to facilitate the delivery of therapeutic goods into cancer cells. The main purpose is to understand how the shape and size of these nanoparticle affect the interaction with healthy and cancerous cells.
Polymers have been the underlying theme during most of my life. Already in school I was fascinated by the versatility of polymer design. Later during my PhD I worked on polymer membranes before I focused on polymer design and then nanoparticles. However, my journey did not start with the aim to become an academic and to specialize on nanoparticles. Where I am right now is the result of planning, coincidence, confusion, luck and sometimes just going with the flow. I will therefore discuss my scientific pathway together with my life experiences and how I got where I am.
About Professor Martina Stenzel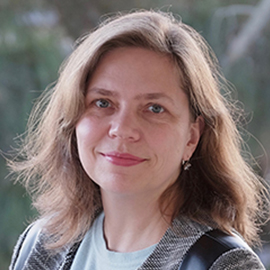 Martina Stenzel is a world-leading researcher in polymer chemistry and its applications. She has invented and developed chemical techniques for the synthesis of new and complex polymer architectures and nanomaterials. Stenzel's research features both the fundamental chemistry and the applications of these new materials. With an emphasis on biomaterials possessing therapeutic abilities, Stenzel has demonstrated the efficacies of her innovative and smart drug-delivery materials, particularly against cancer.
Find out more about Professor Stenzel's research by visiting her profile page on The University of New South Wales website.
(Biography and image sourced from Australian Academy of Science).