Reconnecting with Sydney Chemistry alumni
Dr Yu Heng Lau
Yu Heng is a Senior Lecturer, chemical biologist, and the new Director of Alumni and External Engagement for the School of Chemistry. His research focuses on the chemical and synthetic biology of peptides and proteins for drug discovery and biocatalysis.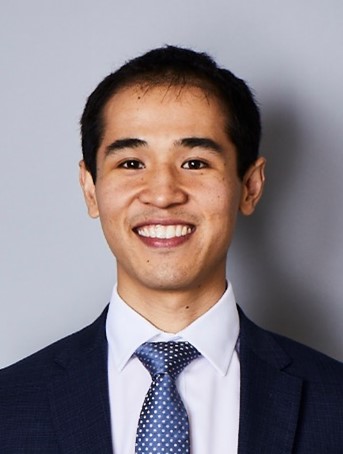 The Sydney Chemistry Alumni Project
Over the past twenty years, the School of Chemistry has graduated over 500 PhD and Honours students along with countless undergraduate chemistry majors. Yet for many of you, this is the first time in a long while that you may have heard from us at the School of Chemistry. This year, we're looking to reconnect with you – our Alumni – to discover the diverse answers to the question "What can you do with a degree in Chemistry?".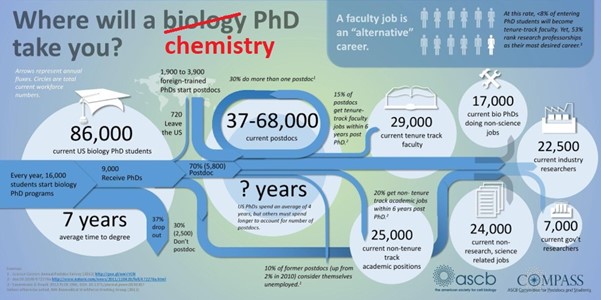 Studies have been conducted on the career paths of biology PhD graduates, but we lack the same data to advice our chemistry PhD graduates. (Credit: ASCB)
It's the one question we get all the time. No matter who it is – our current PhD students in the lab, prospective undergraduates and their parents at Open Days, applicants to our Honours program – everyone wants to know what careers look like after a degree in chemistry. It turns out that the question of career path is not straightforward to answer.
We know that chemistry, as the central science, can lead to very diverse career opportunities. I'm sure have friends from your university cohort that may have gone into law, government roles, start-up businesses, healthcare, education, in addition to those that stayed in academia. Yet in our age of data-driven decisions, there's a paucity of statistical data to inform our students of what current employment trends are, along with a lack of representative graduate stories to demonstrate to students the true diversity of opportunities available to them upon graduation.
This is why we are asking you – our Alumni – to help our students. Starting with a focus on our PhD graduates, we have set up a very short survey to ask you what job you went into after graduating, and what your latest/current role is.
My vision is to be able to create an anonymised and aggregated infographic that plots out realistic career trajectories, with statistical power based on responses from hundreds of our Alumni, to provide our prospective students and soon-to-be graduates with accurate information for deciding their next steps.
To contribute: If you were PhD graduate from the School and we have your current email contact, you should soon receive communication about our project to reconnect with you, our Alumni.
If you, or graduates and friends of the School, are not receiving our communications and would like to, please let us know by contacting Dr Yu Heng Lau (yuheng.lau@sydney.edu.au).